Psychic Reading
by Doris
(now offering services via phone and facetime)

Palm Reading Via Facetime

Tarot Cards Now Via Phone or Facetime

Crystal Ball Now Via Phone or Facetime

Reiki Now Via Phone or Facetime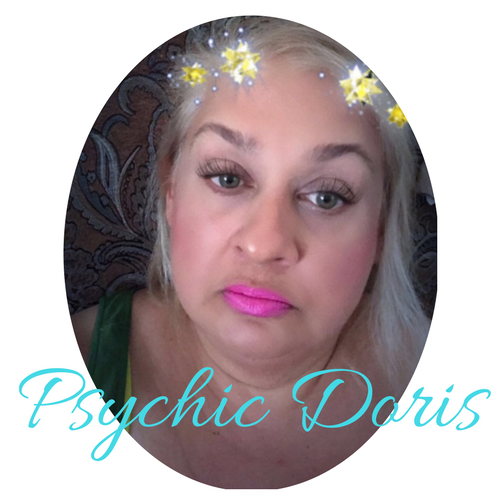 Doris is one of the leading psychics in the Melbourne, FL area.
She specializes in palm and tarot reading, but offers many different services.
Doris is a gifted psychic and clairvoyant located in beautiful Melbourne, FL.
Not only was she blessed with the ability to see the future, but she has been doing this professionally for 35 years.
Doris specializes in Psychic Tarot & Palm Reading.
If you are looking for direction in your life, then let Doris help you find your way.
These are some of the unique and very special services offered at Psychic Readings by Doris.

Palm Reading
Doris will read your palm, which is a traditional technique used by many fortune tellers and psychics throughout the world.

Tarot Cards
Doris will use a special deck
of cards to help provide information
about your past, present,
and future.

Crystal Ball
Using an ancient divintion technique called scrying, Doris will gaze into a crystal ball in order to determine information about your life.

Reiki
Doris uses the ancient art of Reiki, or the laying on of hands, to help heal your body's natural energy.

Aura & Chakra Balancing
Doris will refresh your aura and repair all of the seven chakras using ancient healing techniques.

Doris offers many different types of readings, check here to find one that's right for you.
What Our Customers
Are Saying
Compassionate, Accurate & Amazing!
I went to Doris during a very difficult time. She was spot on. Without asking any probing questions she knew things she couldn't have known. Deep personal things. She told me exactly what I needed to know to help me through my dark days and now I'm seeing the sun shining again. She was kind and caring and I can't even begin to thank her enough for all that she has done for me. She is not a fake by any means and I would HIGHLY recommend her to anyone!

Sunnie Tharp
Yesterday i went and got a reading from the place on us1 her name was Doris i was PLEASANTLY SURPRISED of how well it went i never said anything she done all the talking. i was very happy with my reading she definitely has a GIFT, i HIGHLY RECOMMEND if you've never done it, then try it at least once. it was a very calm and relaxed atmosphere she definitely takes her time with clients. forever grateful JM

John Martin

Schedule
Monday – Friday 10 AM – 7:30 PM
Saturday 10 AM –5 PM
Sunday Appointment Only

Address
304 E Strawbridge Ave,
Melbourne, FL 32901

If you are looking for direction in your life, then let Doris help you find your way.